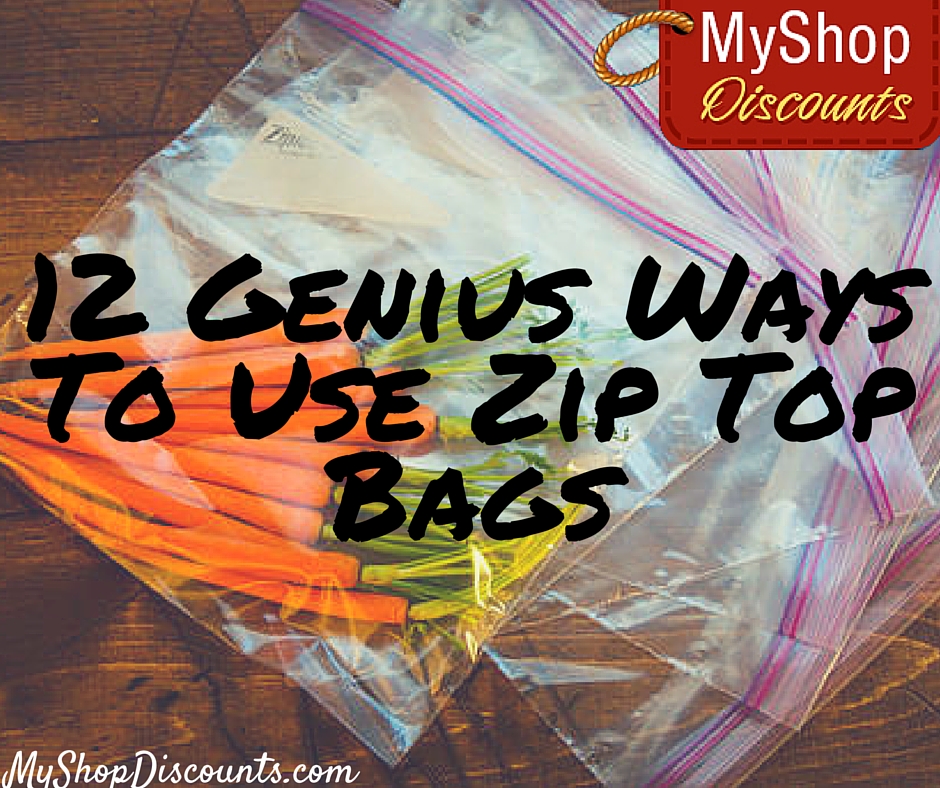 I use zip top bags all the time. They're great for packing snacks on the go and I like to use them for packing away leftovers and storing cookies in the freezer. I love that there is such a variety of sizes, so I always have what I need. There are so many brilliant ways to use them, beyond packing kids' snacks! Here are a dozen unexpected, but fabulous ways to use zip top bags:
Tablet or phone protector. I love this one! Slip your phone or tablet into the appropriate sized zip top bag and seal. Now it's safe to while working in the kitchen or sitting at the pool or beach.
Organizing. Use them to organize everything, from art supplies, to cords, to puzzle pieces.
Kids' change of clothes. Pack up a change of clothes to send to school or keep in a diaper bag and it's safe from spills.
Kneading dough. Put ingredients in the bag and your hands won't get sticky.
Pipe icing. Fill the bag and cut a hole in the corner to squeeze out the icing. When you're done, there's nothing to wash- just throw it away!
Ice pack. Freeze a wet sponge or a bunch of ice cubes in a zip top bag and you'll always have an ice pack handy.
Marinate meat. I do this all the time and I love it because there's no clean up and fewer worries about contaminating other surfaces. You might want to double the bag, though, to prevent messy leaks.
Packing #1. Pack shampoo, sunblock, mouthwash containers, and other things that can leak in zip bags in your suitcase so spills won't ruin your clothes.
Packing #2. Pack socks and underwear in bags so they'll stay neatly in one place in your suitcase.
Keep a few in a diaper bag. For diaper disposal for the times you can't get to a garbage right away.
Store out of season clothes. There are really big sizes that are great for this.
 Freezer food storage. You can store almost anything in zip top bags, but this is especially great for freezing single portions of soup. Fill the bag, seal, and lay on its side in the freezer to save space, too. You can stack them up and your freezer stays neat.
And I'm just getting started here! There must be dozens more ways to use zip top bags that are just as clever and practical.
Do you have any other genius uses for zip top bags? Share them with us on Facebook and Twitter!
If you enjoyed this article, Get email updates (It's Free)