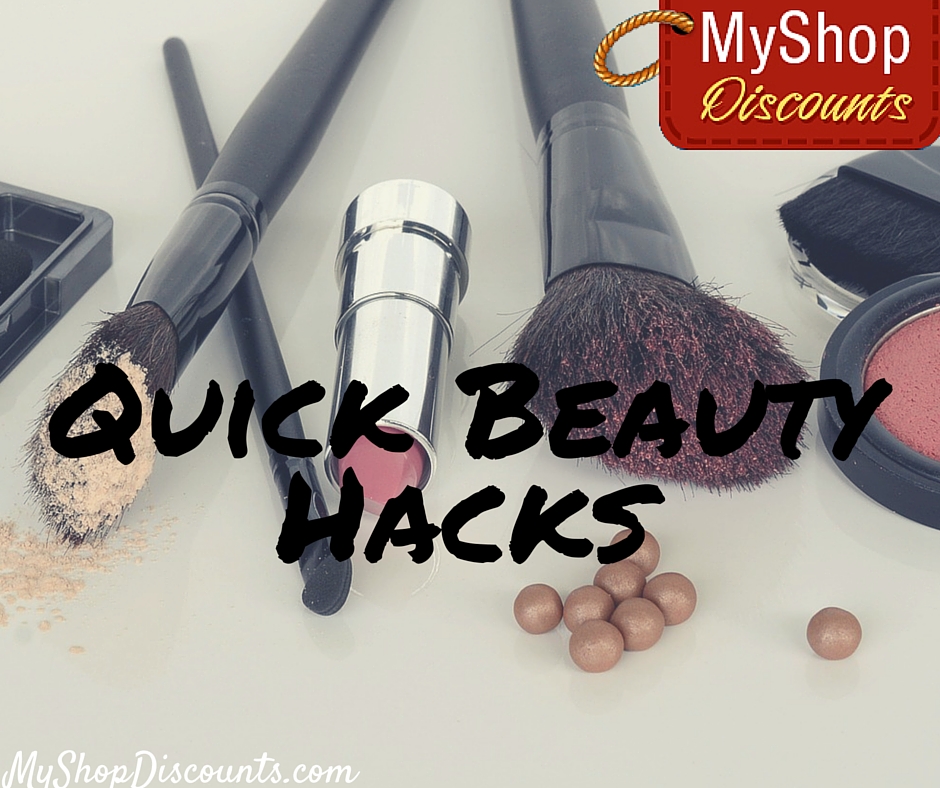 Who doesn't love a good hack? Hacks are fun because it's cool to find new ways of doing things. And beauty hacks are best of all because…well, beauty! And when those beauty hacks are also time savers?  You'll love these quick beauty hacks!
Leave-in conditioner: Combine 1 part regular conditioner with 3 parts water in a spray bottle. No need to buy a separate product, and you won't find an easier DIY.
Tame flyaways: A little hairspray on a toothbrush lets you focus where you need to.
Bright eyes: Apply some shiny eye shadow powder to the inner corners of your eyes.
Get rid of mascara clumps: Smooth lashes over with a toothbrush.
Full lips: Get some shimmery eye shadow in the center of you lower lip- on top of lip color.
Plump lips: Put a few drops of peppermint oil into your lip gloss.
Runs in tights: Stop them with hairspray.
Bobby pins: Spray bobby pins with hairspray or dry shampoo to keep them in place all day.
Instant smokey eye: Go from day to evening by smudging your eyeliner with a Q-tip.
Easy hair styling: Too lazy to blow dry your hair? Twist wet hair into a bun and go. When it dries, loosen the bun for cool waves.
Don't want to shampoo: Just wear a hat! This trick works in every season- for summer you can go with a straw hat or a cool scarf tied on your head for a chic look you'll want to sport even when your hair is clean.
Skip the shampoo: Use dry shampoo at night, but don't brush it out. Leave it in while you sleep and it will absorb the oils in your hair so you'll look fresh by morning.
Aren't these great? The best part is that they're so easy and they don't require any special products!
If you enjoyed this article, Get email updates (It's Free)