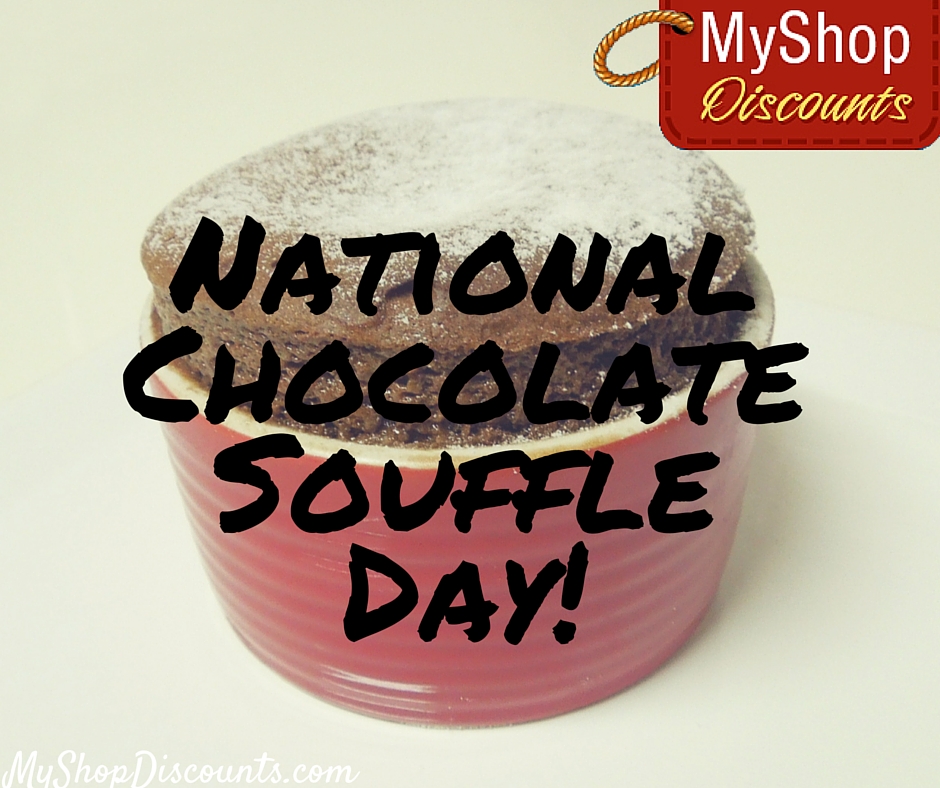 If there's a national "whatever" day you'll want to celebrate, it's got to be National Chocolate Soufflé Day! Chocolate soufflé is pretty decadent, so it's not something you'd have every day, but if it's a national holiday, you  have to participate. You wouldn't want to be a bad citizen, would you? The other thing about chocolate soufflé is that unless you're a pretty experienced cook or dessert maker, it can be a little intimidating to make at home.
You can always go out for a chocolaty treat in honor of this special day, but I've found a fabulous and easy make-at-home recipe for chocolate soufflé and I'm going to share it with you. Impress yourself with this delicious recipe for easy Chocolate Soufflé from Real Simple. There's an optional Custard Sauce to serve with it if you want to take it to the next level.
For 2 servings:
Ingredients:
3 tablespoons butter
2 tablespoons unsweetened cocoa
3 ounces semisweet or bittersweet chocolate
1/2 teaspoon vanilla extract
2 egg yolks
2 egg whites
2 tablespoons sugar
pinch salt
pinch cream of tartar
Directions:
Heat oven to 375° F. Use 1 tablespoon of the butter to grease one 16-ounce or two 8-ounce ramekins. Coat the ramekins with the cocoa, tapping out the excess.
In a large bowl, over a pan of simmering water, melt the chocolate and remaining butter. Stir occasionally until smooth. Remove from heat and add the vanilla. Whisk in the yolks one at a time until smooth. Set aside.
In a clean bowl, beat the egg whites with the sugar, salt, and cream of tartar until stiff (but not dry) peaks form. Gently fold the egg-white mixture into the chocolate. Spoon into the ramekins. (The recipe can be made to this point up to 1 day ahead. Cover with plastic wrap and refrigerate.)
Bake until puffed and set, 40 minutes for a 16-ounce soufflé, 20 minutes for two smaller ones. (If baked directly from the refrigerator, add 5 to 10 minutes.) Serve immediately with Custard Sauce.
Try this recipe today, and then put it in your files because you're going to want to make it again and again! Happy National Chocolate Soufflé Day!
If you enjoyed this article, Get email updates (It's Free)