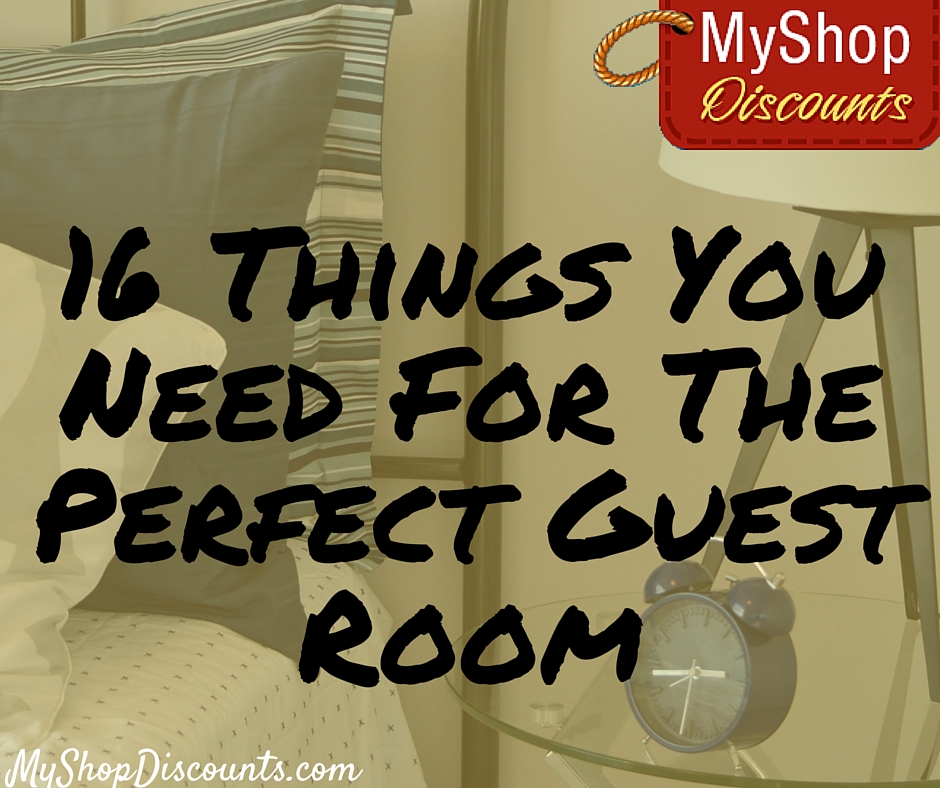 Are you having guests for the holidays? You'll want to make them feel comfortable while they stay with you (but not too comfortable so they never leave!). So here are 16 things you need for the perfect guest room!
Extra blankets and pillows. Because you won't always know your guests' preferences, it's good to have an assortment of heavier and lighter blankets, and fluffier and flatter pillows. Having lots of pillows on the bed also helps make it feel more luxurious.
Towels.
WiFi password. You  might want to design a welcome card that gives your guests pertinent information like the password to your WiFi and info about the local area.
A bedside lamp.
Bottled water. This way they won't have to go roaming around the house if they get thirsty in the middle of the night. If you're comfortable with food outside of the kitchen, set out little snacks like granola bars, nuts, or a small box of chocolates.
A small dresser. Living out of a suitcase can get pretty annoying, and providing a space for clothing will also help guests keep the room neat during their stay.
A luggage rack. It's a nice touch in a guest room- feels sort of like being in a hotel. And a luggage rack is another things that helps keep things tidy. You can find them in thrift stores, or order this nice, sturdy one from Bed, Bath, & Beyond.
Clock. A bedside clock is probably best because it's close at hand.
Mirror. A mirror in the room is pretty important. If you're short on room you can always hang one on the back of the door.
Toiletries. Provide things like shampoo, lotion, shower gel, Q-tips, toothpaste. You can have a supply of trial sizes and set them up in a pretty basket or tray in the room.
Blow drier. Provide a blow drier for your guests to use. In these days of airline luggage restrictions, they may not have been able to pack their own.
Hangers. Also very important. And to make it look nice, don't just recycle the wire hangers from the dry cleaner. You can buy nice hangers at decent prices at Target and discount home stores.
A box of tissues.
Fresh flowers. This is not essential, but it really makes the room cheery and welcoming.
Magazines. A small pile of magazines in the room is also a really nice and thoughtful touch. Have an assortment so that you address different interests.
Artwork. Hang some pleasing pictures on the walls to bring some color and life into the room and make it feel homey.
What do you do to make your guest room feel special?
If you enjoyed this article, Get email updates (It's Free)